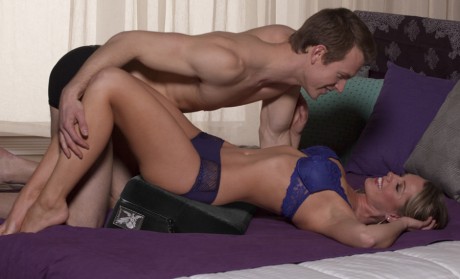 Over the years at VIP, I've tried my share of toys, lotions & potions, and the like, that's why I recently decided to branch out a little. So what do you get if you're the sex toy enthusiast who has everything? Sex furniture, of course! VIP carries a rotating variety of Liberator brand positioning aides, but one of the staples we just cant go without is the 'Wedge'- It's one of their most basic models, and a best seller, so I figured it made a logical pick for my first sexy furniture! When initially examining the wedge, a million things ran through your head ( assuming you can get a little creative). The Wedge's simple, yet elegantly sloped design lends itself to so many possibilities, I could wait to get it home and try it!
The Liberator Wedge is made from a firm, high density foam that supports the body and prevents sinking into a bed. The Wedge comes with two types of covering over the foam core- The outer layer is a soft and sensual feeling microfiber that comes in tons of colors, the inner cover is a moisture resistant material that protects the inner foam of the Wedge. The great thing about this system is that the outer cover is machine washable, so if you get a little crazy with lubes, body oils, or you've just been drooling with pleasure- the whole Wedge can still be cleaned and protected! The dimensions of the standard wedge are 14″ in length,  24″ wide, and  7″ high.
This firm triangular cushion can be angled in a huge variety of ways to maximize pleasure in just about every position. During doggie-style, it elevates the hips to provide deep penetration, while simultaneously giving your partner a great view of your buns! With one partner on top, the wedge can slide underneath the partner laying on their back, and shift their hips up into an angle that creates a whole new sensation during penetration- plus, it forces you to lean in closer for an intimate exchange. The wedge is excellent for providing support during missionary, and its lots of fun to move from this position to having your legs over your head (I am in no way flexible, but with the wedge boosting up my booty, I flung those legs over my head with ease!). It can even be used by both sexes during oral for extra fun and support: Boost the genitals up for cunnilingus. or lay on the incline with your head coming over the top of the wedge, it'll open up your throat for some seriously phenomenal fellatio! Basically it makes every position you can think of more fun and more enjoyable! These things are lil' wedge shaped pieces of heaven.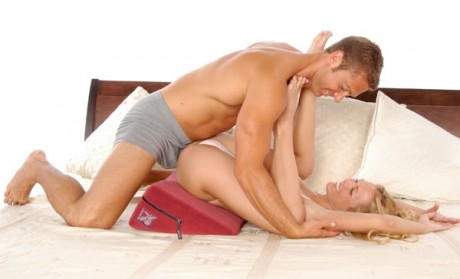 This positioning aide is ideal for just about any customer. It's perfect for couples looking to spice things up, and excellent for a little creative solo play. People who are already familiar with sex furniture and other adult products will find it a treat, but it's so intuitive to use that it's also an excellent pick for people who are totally new to sex-essories (sex accessories, duh!). It creates a fun and challenging dynamic for partner sex, and gives you the opportunity to work together to come up with new and imaginative ways to utilize the Wedge. In excess of being just good old fashioned fun, the Wedge is also great for pregnant women, plus sized folks, older couples, and people with joint pain or muscle issues because it help take pressure off of the various parts of the body that experience stress during sex.
Up, down, left, right- It doesn't matter, The Liberator Wedge makes every position the right position. In general, Liberator products may be a little spendy for some, but let me tell you, it's an investment! The Wedge is worth every penny you pay for it, and it's a must have for anyone looking to start or expand their naughty furniture collection!