I've been looking around for a while for a discrete and easy to use restraint system for my home. It was important to me to find something that could be easily stored away, and didn't need to be fixed into my walls or ceiling. Quality and durability were a factor in my choosing as well. I wanted something durable and versatile, but didn't want to break the bank. I've heard that over the door restraints can damage walls and doorways… I'm no good at rope tying or fancy knots, so bondage rope was out… and plain old handcuffs just aren't satisfying my inner freak anymore. That's when I gazed upon the Sportsheets Under The Bed Restraint System! This restraint kit is just marvelous!! Whether you are planning on some kissing and nibbling or some spanking and flogging, five out of five starts for my rating. It is a simple and very easy to install restraint system, that will instantly turn your bedroom into your own personal pleasure dungeon!
The adjustable nylon straps make a capital "I" shape, the middle part goes under your top mattress and the straps from the top and bottom come around and to the top of the mattress. You can then make the arm and leg straps come up and over the top and bottom, or the two sides of the bed, which adds some variety to this restraint system. There are four comfortable and soft cuffs lined with faux fur, both inside and out, which feels velvety and soft. The wrist and ankle cuffs secure with heavy duty Velcro for an adjustable, yet strong hold. As you can imagine this restraint system is very versatile, you can use it on a number of different sized beds, from itty bitty to huge, the middle strap that goes under the bed measures to 60 inches and so do the straps at the top and bottom. The sewing on the straps is double stitched, and it appears to be very durable, the metal O-rings are like standard key rings, and the metal clasps and plastic buckles are pretty standard as well. I found all of these components to be well made and super easy to use! Because of these easily adjustable straps fun with this restrains is easy and smooth, you can move from position to position with ease whilst being strapped in. When your kinky fun is all done, the arm and leg straps can be simply hidden under the mattress, so there's no need to break it down, or reinstall it the next time you want to use it- just pull the straps back out from under the mattress!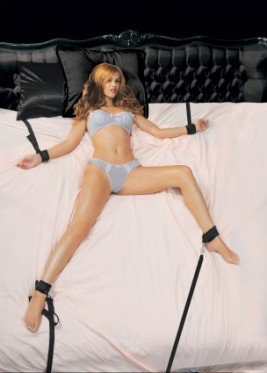 One thing to be aware of is that this toy isn't meant for serious BDSMers, and is more ideal for customers looking to engage in mostly light play. Although the nylon, neoprene, and Velcro are all good quality, and the construction is solid, I don't think that using this restraint system will offer much in the way of real power play, as one can easily release oneself from the cuffs. It just doesn't stand up to more heavy-duty leather and metal products. That said, it's lots of fun, and would be great for more vanilla couples who are looking to try a little something new and kinky. Overall, I think this kit makes for lots of kinky fun, and is a great value to singles and couples who want to spice things up a bit!