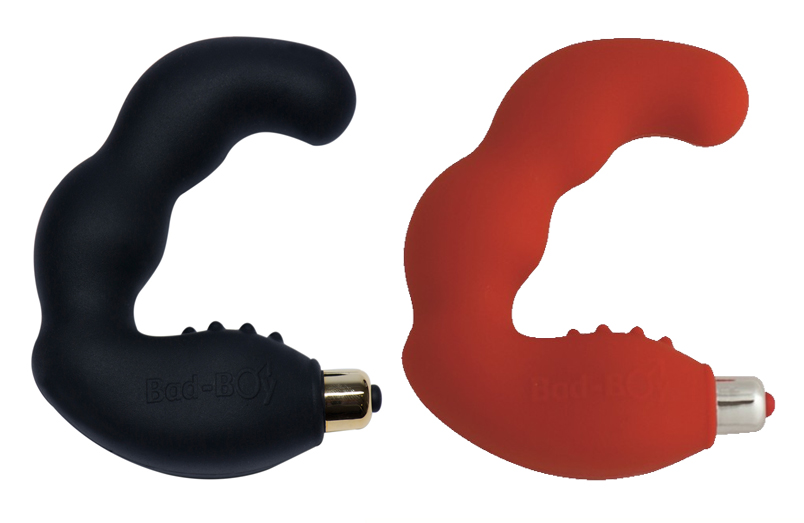 The Bad Boy Prostate & Perinium Vibrator, From Rocks Off
For my first product evaluation I chose the Bad Boy by Rocks Off. Holy shit- This toy is absolutely incredible! Stimulating both prostate and perineum simultaneously, it is a sure fire jet plane to orgasm land. I am happy to let this toy join the "weapons of ass destruction" I have, and am glad to incorporate this into my masturbation rituals! Not for the vanilla….this toy is definitely for the anal play elite!
The "hands free" design didn't really prove to be hands free, because it is about the same diameter all the way down (I think that some of the other Rocks Off shapes, like the Butt Boy would stay in place more easily) , but it is perfect to wear during intercourse, that is if you are sitting or lying down with your partner on top. Also, because it is made of medical grade silicone, and body friendly its really fun to swap this toy with your partner. The vibrating aspect is great when pressure is applied to the perineum. It really added to a great explosive orgasm.
The Rocks Off Bad Boy  is made of 100% medical grade silicone, making it appealing to the touch, sharable, and most importantly body friendly. As well as easy to take care of with simple antibacterial soap and water or a quick spritz with antibacterial toy cleaner or a 10% bleach solution. This toy is measures in at 5″ insertable length for prostate stimulation, and has a 2½" perineum massager with nubs for extra stimulation. This vibrating toy is powered by the Rocks Off brand RO-80mm bullet, which is battery powered, but strong and basically silent! Tbe Bad Boy is also waterproof, which makes it ideal for hot shower or pool sex!
I think this toy would be good for people basically anybody with a butt! Ok, if you want to be specific about it, the Bad Boy is perfect for gay dudes, or any other men into anal play. My only criticism of this toy, if you can call it that, would be that it could be a little bigger…bigger is better in my opinion! If you love big toys like I do, you may want to upgrade to some of the equally nice, but larger sized Rocks Off toys!