Pleasure Parties (also known as Passion Parties) are quickly becoming synonymous with the ultimate girls night in! These laid back, but educational events provide all the perks of an awesome in store shopping trip, in a setting that is comfortable and intimate. So let loose and have a little fun! Our Pleasure Parties can be tailored to meet your specific interests and needs. They are the perfect opportunity for you and your friends to get steamy advice, as well as answers to your most curious questions about sex and intimacy! VIP's Pleasure Parties are designed to bring the attentive, fun, and informative VIP shopping experience you've come to expect in our store, right into your home!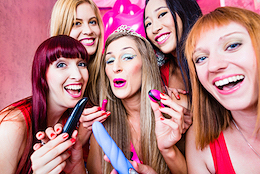 What are you interested in exploring? Some frequently requested topics include: Sex Toys 101, Toys For Couples, and BDSM For Beginners. Our pleasure party consultants can help you to curate a theme or collection of products, and recommend complimentary products your guests will love. That way, you'll be sure that your party revolves around only the things that you care about and are curious about exploring! When you book a party with VIP, you'll do a store walk-through with a Pleasure Party Consultant to check out all of our adult toys, lingerie, foreplay essentials, and more. Once you've seen all the goods, you'll pick the products you're interested in learning about. Our consultants will then place an order especially for you, so that all the products will be on hand and for sale at the time of the event. One the day of the party, we come to your house tell you about how our products work, and how to make them work for you!
Whether you're looking to have an incredible bachelorette party, Doe & Stag party, celebration of menopause, divorce party, or simply want to throw a Ladie's Night bash your friends will not soon forget- A Pleasure Party with VIP's Pleasure Party Consultants will make your next get together a sexy, fun, educational, success!
You can book your own Pleasure Party with VIP by calling (415) 485-4954 or sending an email to Info@EroticVIPClub.com. Want to stay updated, and learn more about our Pleasure Parties, in-store events, and other fun happenings? Follow VIP Erotic Boutique on Facebook!