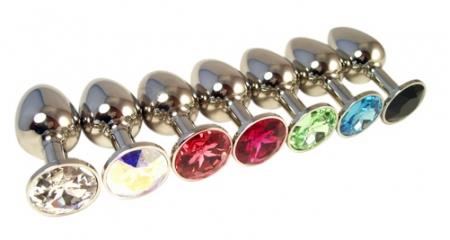 Is love at first sight real? It can be with toys! Long have I worried that my ass simply wasn't fancy enough- and then came along the Miko Pretty Plug (AKA: Miko Butt Bling). I have to admit that I had been eye balling this toy for months before deciding to review it- After all, how could I take my eyes off something so ridiculously shiny? That beautiful, twinkling Swarovski crystal may have been the catalyst for somewhat shallow motivations, but I'm happy to report that this product totally exceeded my expectations!
Indeed, the Pretty Plug is much more than simply pretty: The shape, size, and weight of the "small" sized plug were just perfect for me, as an anal play beginner. From a psychological standpoint, I think this plug is perfect for beginners who have historically been a little "butt shy", because the genuine Swarovski crystal on the end of the plug is so cute and sexy, you cant help but feel confident about your ass! Having said that though, I think that the density and weightiness of the small plug would also make it a great addition to the seasoned anal players repertoire, and if the small just wont do it, the Pretty Plug also comes in medium & large. The toy puts pressure on the vaginal wall in a number of positions, which makes for lots of fun new sensations. When laying flat on your belly with the plug in, the weightiness of the plug makes g-spot stimulation easier and awesome-er! In general, having a butt plug in, especially of this weight, makes the vaginal canal feel smaller and tighter, which is a lot of fun for both partners during sex. Meanwhile at the back door, the plug itself makes for tantalizing new sensations for the anus and the butt cheeks. Overall, I found that this toy works really well in nearly all kinds of solo and partner situations.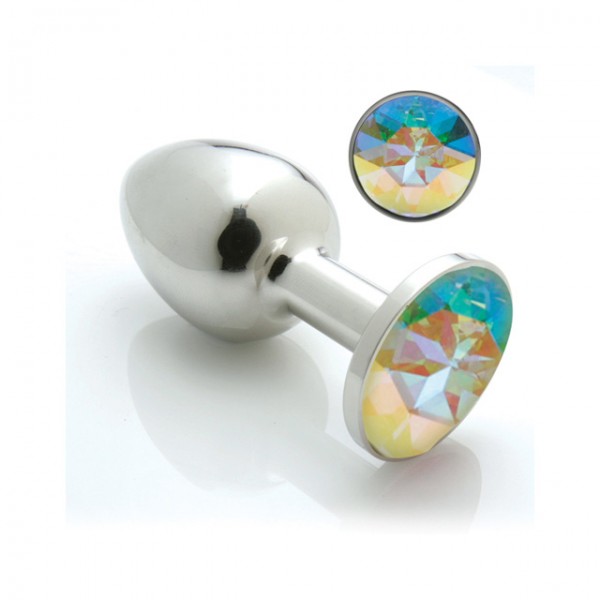 Miko Pretty Plugs are made of smooth, non-porous, medical grade stainless steel, which can be fully sanitized with antibacterial soap and water or an antibacterial toy cleaner. This toy is totally body- friendly and acceptable for use with multiple partners as long as it is sterilized between uses. Because the plug is stainless steel, it can be heated and cooled for the added fun of temperature play. The materiality also makes the plug wearable longer term, and I found some online reviews that said it was fun to wear during the day and even out on dates…I didn't personally try this, but I can attest to the fact that the plug is completely comfortable to wear, especially once it's reached body temperature. If exhibitionism is your thing, the beautiful 'bling' is just the thing to spice up your appearance at a sex party, swingers club, or in your very own naughty movie: Dazzle your loved ones and new friends alike with its extreme shininess!
I think the Pretty Plugs are great for everybody: women & men, booty beginners, & seasoned pros. I would definitely recommend Pretty Plugs to customers who have been dissatisfied with other plugs because of their texture, shape, or light weight, as well as customers who are interested in trying anal play, but are shy or self- conscious of their butt hole. This plug is great for gals who have had trouble finding their g-spot with the toys, fingers, or vaginal penetration alone. Lastly, although a little spendy for some, I think these plugs would, make an ideal Holiday or Valentines Day gift for the Toy Enthusiast who has everything!